Safe: Statham and Chan Make a Winning Combination
(A Cherryontop Review)
By Elisa Mader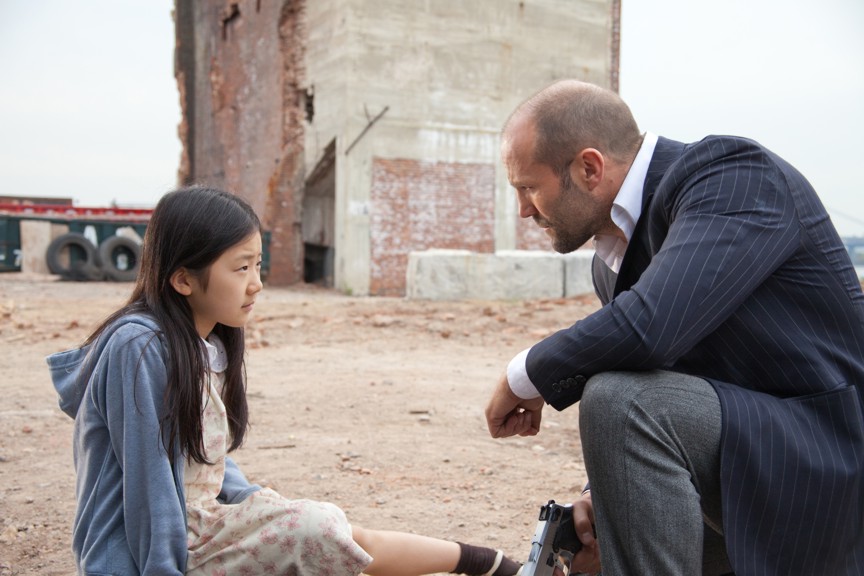 6.5 out of 10 cherries

In Safe, the most dangerous place to be is in public. Writer-director Boaz Yakin (Fresh) sends hordes of Russian mafia, Chinese Triads and crooked New York cops rampaging through subways, restaurants, nightclubs, fancy hotels and city streets in the pursuit of the city's most wanted individual. Who are they chasing? Is it Jason Statham's tough-guy character? No! It's a little Chinese girl.

In this action thriller, Statham (Crank, Snatch) plays Luke Wright, an ex-boxer from New York City with a mysterious past. When he spies a young Chinese girl, Mei (Catherine Chan), dodging Russian gangsters in the subway, he decides to save her. However, there's more to Mei than meets the eye; a prodigy with a mind like a computer, she has been forced to work for the Triads and knows the secret code to a very special safe. Good thing Wright is also more than he appears; with the whole city after the girl, only an expert with his deadly skills has a chance at keeping Mei safe. But can he?

This taut blockbuster runs for only 94 minutes, but it's packed with fight sequences, chase scenes and plot twists. Yakin treads that fine line between adrenaline-filled and confusing—stomps on it, really. With brutal efficiency, Yakin paints a cynical picture of wheeling and dealing between mobsters and city officials, reaching all the way up to New York's mayor, Danny Tremello (Chris Sarandon). It's a world of cartoonish violence where nobody hesitates to open fire in a crowded public space. The bodies pile up so quickly that even Mei could lose count.

Between the frenetic scene cuts and the rampant violence, the audience might emerge from the theater completely shell-shocked if it weren't for the film's excellent cast.

Innumerable baddies keep Wright's fists flying almost the entire length of the film, but they produce some great performances as well. Actors Sándor Técsy and Joseph Sikora exude a marvelous Slavic sleaze as Russian mafia head Emile Docheski and his son Vassily. James Hong and Reggie Lee make equally delicious villains on the Triad side, as mob boss Han Jiao and his right-hand man in New York's Chinatown, Quan Chang—Mei's loving "father." Add in a troupe of hard-bitten crooked cops played by the likes of Matt O'Toole and Barry Bradford, and you've got a lot of bad apples in the Big Apple.

As for the stars, they deserve their top billing. The wry, biting exchanges between Statham and his young co-star Chan inject much-needed comic relief into this blunt, unrelenting action film. Their budding friendship feels like an oasis in a wasteland of moral corruption. Chan conveys Mei's odd blend of angelic fragility and street smarts very convincingly, and she creates a marvelous contrast with Statham's steely demeanor and sheer physical awesomeness.

Overall, Safe is long on violence and a little short on character development and humor, but in the end it delivers on entertainment value and visual thrills and is a little like playing Street Fighter for 94 minutes straight. Statham and Chan make fun, unlikely sidekicks. Handsome Statham himself makes an eminently watchable action star, even if the jerky camera doesn't let your eyes focus on him very well.

And New Yorkers might find some wry pleasure in watching their city destroyed in record time.